In the CENTER of the FAMOUS Brimfield Antiques Show Grounds!
35 Palmer Road. Brimfield, MA (Across from the New England Motel)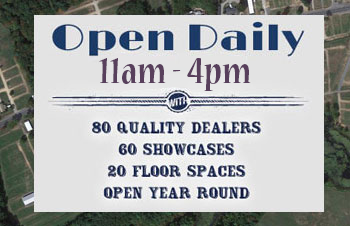 413-245-9269
March through October – Open 11am thru 5pm daily, 7 days a week!
November through February – Open 11am thru 4pm, Monday thru Friday; Saturday and Sunday open until 5pm!
Closed for: Easter, Memorial Day, 4th of July, Thanksgiving, Christmas, and the three Mondays following each of the three Antiques Show weeks (May 20, July 15, September 9, 2019.)
Accepting Waiting List applications for showcases and floor spaces in our new 6,000 square foot center.
We sell quality Antiques & Collectibles in our spacious facility conveniently located in the center of the Brimfield Antiques Show Grounds.
Download the B.A.C. Waiting List application by clicking the popup link in the pdf below, and choosing the "print" option at the top of the page.:
<![if !IE]><![endif]>
Download the Dealer Inventory Record Form by clicking the popup link in the pdf below, and choosing the "print" option at the top of the page.:
<![if !IE]><![endif]>